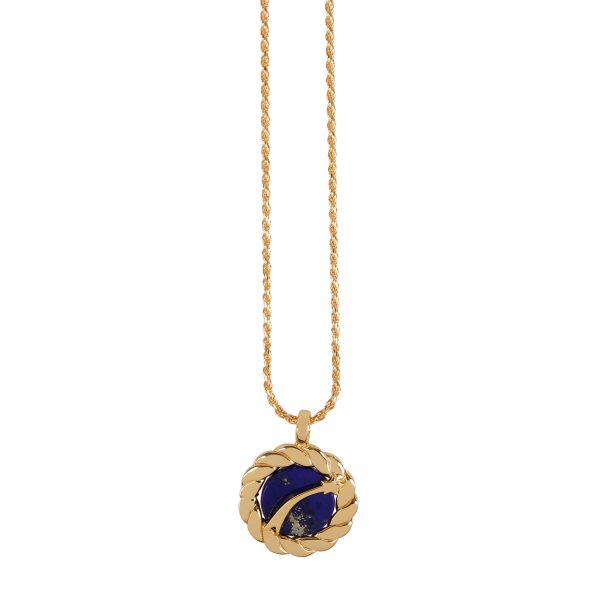 Universe' Necklace - Renaissānce Collection
Material: Sterling Silver
Dimensions: 4,2 cm
Length of chain: 45 cm 
Handcrafted with care _ Accompanied by his own package.
Lapis Lazuli: Lapis Lazuli is one of the most sought after stones in use since man's history began. Its deep, celestial blue variations with distinguishing gold flecks remains the symbol of royalty and honor, gods and power, spirit and vision. It is a universal symbol of wisdom and truth.
Renaissānce'  Lucky Charm '2022' - Renaissānce Collection
Dimensions: 4,2 cm
Length of chain: 45 cm 
Handcrafted with care _ Accompanied by his own package.
Emerald: Through time, the emerald has been known as a symbol of truth and love. In ancient Greece and Rome, emerald was said to be the gemstone of the goddess Venus, purveyor of love and hope.Called the "Stone of Successful Love," Emerald opens and nurtures the heart and the Heart Chakra. Its soothing energy provides healing to all levels of the being, bringing freshness and vitality to the spirit. A stone of inspiration and infinite patience, it embodies unity, compassion and unconditional love.
'Per Aspera Ad Astra' Necklace According to Greek Mythology, Apollo was the god of light and sun. Daphne, the mythical nymph, had captured his heart and he created an evergreen laurel wreath in her honour. Its everlasting leaves are a tribute to eternity and glory. They symbolize dedication, accomplishment and harmonious living. Aiming for the stars , despite all challenges is the motto reflected in the Per Aspera ad Astra Collection.